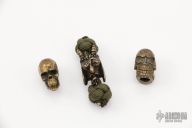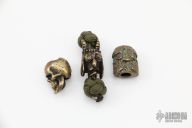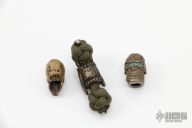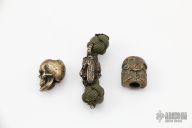 Lot of 3 Beads
Price $95.00
Overview
Two USN beads, and a skull bead from Rick Barrett. Show patina, Excellent condition.
Product Details
Weight (oz) 1.4
Source Previously owned
Additional Specs
About the Maker

Barrett, Rick
"For over twenty years I have been obsessed with the Japanese sword and the various mysteries involved with its forging. I started my journey into swordsmithing while I was yet a teenager by joining the various sword study groups and regularly attending shows (Token Kai) around the U.S. Around the time I first began delving into the craft there was very little written about smithing of the blades themselves so most of my knowledge was self taught through trial and error. As I gradually learned new techniques and succeeded at producing traditional aesthetics I found myself drawn even more strongly toward tackling even the most minute details in the steel which has brought me to smelting my own steel from refined iron and iron sand. I do use a variety of modern tools and techniques in making my blades as I don't have the liberty of having apprentices to work my hammers or the room to build large tatara. As such I primarily use propane to fire my forge and hand made smelter as well as a 115 Lb. air hammer and various modern grinding tools for doing my final shaping. For my specialty, Japanese swords, I only use my own personally smelted orishigane or tamahagane and 1075, W1 and W2 (for cutting blades). I have chosen to use traditional materials solely in an effort to master the multitude of traditional characteristics found on properly made Japanese blades. These include the formation of utsuri, chikei, sunagashi and formation of varying sized nie and nio as well as controlling their placement on the blade. Many smiths spent their whole lives trying to master their control over the naturally induced features in a blade and I fully expect this to be my lifelong journey as well. I also frequently make various contemporary swords and knives based off fantasy inspiration and the darker side of my psyche. The steel for these blades will vary depending on the overall design and effect desired. On occasion I will use pattern welded steel from Daryl Meier but unless otherwise noted all blade materials and fittings are made by myself. Occasionally I will collaborate with several other exceptional bladesmiths and artists."
Related Items