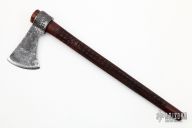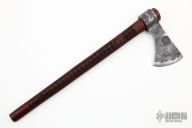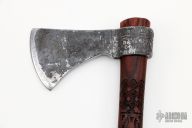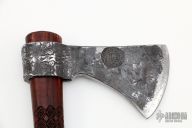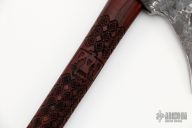 Engraved Tomahawk
Price $595.00
Overview
Laser Engraved Tomahawk from RMJ. New from maker at the Nashville Show 2022.

18" Haft.
3.25" blade length
.25" Blade Stock
Product Details
Overall Length 18
Weight (oz) 21
Source From maker
Additional Specs
Handle Material Wood
About the Maker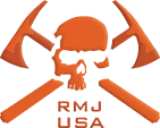 RMJ Tactical
"RMJ Tactical LLC was founded in 2005 by Ryan Johnson and Richard Carmack for one reason, to provide our troops with tools which help bring them back home. RMJ Tactical specializes in tomahawks. Ryan Johnson is the President and designer for our company. He is an expert blacksmith as well as a mechanical engineer. Mr. Johnson's background in engineering gives us a enormous advantage when it comes to the design of our tomahawks. Ever single detail on our products has been designed and engineered for a purpose."
Johnson, Ryan
Ryan Johnson has been forging tomahawks and knives for over 27 years. Ryan has spent the last decade applying modern engineering to centuries old tool and weapon concepts, redefining the role of the tomahawk in Law Enforcement and Military applications. Ryan is the president and primary designer at RMJ Tactical.
Related Items