Welcome to Arizona Custom Knives
My name is Julie Maguire and I am the owner of AZCK.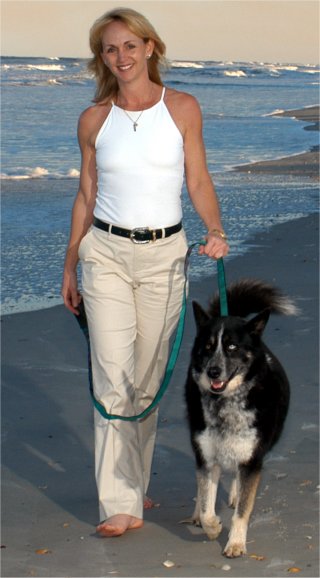 Arizona Custom Knives has been in existence for over 25 years. I purchased the business in 2002 and will be running it until I am a granny.
Most people want to know why would someone be interested in knives and more importantly why would a woman be interested in knives?
Hmmmm. I must admit that I gave it very little thought. I just found the business for sale and knew it was right for me. If I could have bought it that night, I would have. Every cell in my body tingled with excitement. This was everything I could have dreamed of.
But why I have been asked and asked? Well now after careful reflection and answering the question a kazillion times I can tell you, in my sleep.
My maternal grandfather was a tool and die maker for boat parts in New Jersey. Although I never knew this part of him he always had the greatest tool shed. I spent hours in there playing. I riveted things, drilled, hammered and just created and destroyed everything imaginable in that shop.
My father grew up on a farm in Tennessee and became an engineer. He collected and traded those old knives with the xxx's and dots. So did my uncles, cousins and the men dressed in clean overalls at the courthouse. I remember it vividly.
I then appeared on the scene. I was an only child tomboy who grew up with a workaholic father and an eccentric mother and a collector of many things. My father believed I must be able to be self-sufficient and learn to do everything I could. I have painted so many houses that I can't keep count. I can cut like a pro. I have baled hay, cut tobacco, put in fence posts and mowed a bazillion lawns. My father always did all the work on the cars so I became his helper. I learned about timing, valves, seals, rust and bondo. We actually rebuilt a Triumph TR 250 and even did the paint job. Wow, what a car. My first car was an Opel Gt with the bug headlights. I purchased her for $200 and later sold her for $2,500. I know how to make money. I must admit that I now stay away from cars.
As I said above I was a tomboy. I lived in the woods, building forts, fishing for tadpoles and of course playing Indians. My heroes were John Wayne, Clint Eastwood, Davy Crockett and Daniel Boone and of course the infamous Bowie. Wow. I wanted to throw a knife like he did.
I have always had an interest in the workmanship that goes into made things. Whether it is food or construction, it just interests me. My mother taught me to look at things closely, to examine their value and why. Whether it was a Queen Anne leg on a chair or a brown pottery jug, they all have a history and something to respect. When I entered high school, of course, we were expected to take home ec. Are you kidding? Me take home ec? I took shop in high school and loved it.
I continued to grow and became a nurse. I shuffled from area to area but my concentration was on children. I did child and adolescent psychiatric care the longest, then newborn nursery and NICU. Around the time I went into the baby area, I had children of my own. I think I liked the babies because they didn't talk as much and did what they were supposed to do.
I have always enjoyed the outdoors and adventure. I went on a cross country skiing trip with Outward Bound when I was 16 and had never seen snow. I just recently went dog sledding in Alaska by myself for a week. The days consisted of all day (25-mile days) with my own team. I do know what cold is now. I have been fishing since I was a child and have always loved it. Last but not least, I have had the opportunity to travel the world. I was very fortunate that my father for a short time worked for Pan Am and we could fly for free.
My life and its experiences are what makes knives so appealing to me. It is in my blood. It feels comfortable and where I should be.
I guess my mission statement or my thought on the knife business is that I love it!! I thank God everyday that I had the opportunity to do this. Yes, I have a lot to learn and the business will always grow and change as I do. But for me that is important. To always grow and change to flow and give with life and to live the best that I can. Those beliefs will always transfer to my business. To me they are one and the same. I will strive to always do my best and to learn, grow and enjoy life. I hope that as you visit the site and view the knives that you will always get that feeling and enjoy life, too.
As always all the very best,
Julie