G2 Titanium Clicker Spiral Flute with Dots - UV Green
Price $275.00
Overview
G2 Titanium Clicker Spiral Flute with Dots. New from maker. This pen was customized by Captain Axel.
Product Details
Overall Length 5.5
Weight (oz) 1.7
Source From maker
Additional Specs
Knife Type Tip Down Carry, Tip Down Clip
Handle Material Metallic
About the Maker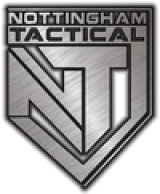 Nottingham Tactical
We are a small, privately owned CNC manufacturing facility located in Hazlehurst, Mississippi.
Related Items