Niobium Marsh Molle
Price $150.00
Overview
Niobium Marsh Molle. Excellent condition.
Product Details
Overall Length 1
Weight (oz) 0.2
Source Previously owned
Additional Specs
Handle Material Metallic
About the Maker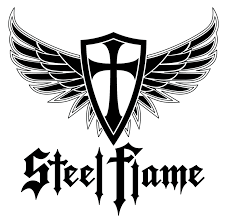 Steel Flame
Derrick Obatake born and raised in East Los Angeles and has been designing and making jewelry for over 35 years. At an early age he was taught to be a machinist by his father. He is a Graduate Gemologist from GIA and has had formal training in traditional jewelry arts, Diamond setting, model making, casting, finishing and fabrication. He has extensive experience in Die striking, and 3D CAD design. I like to blend old school craftsmanship with new age technology to create an out of the box style that is hopefully refreshing and empowering. The parent company of Steel Flame®, Elements has been in business for over 17 years. Elements has sold custom product through over 500 retailers nationally and has been an approved drop ship vendor for corporations like Nordstrom, Disney, Warner Bros, Amway and Lands End. We take pride in building everything here in the United States using quality materials from US suppliers.

Marsh, Jeremy
People often ask how I got involved in knifemaking. I have always carried a pocket knife, and have always been intrigued and wanted to own a custom made folding knife. I started making rings from titanium for friends and family, and in 2003, my dad came home one day from work with a couple issues of Blade magazine. After a couple days of paging through the magazines, I was on the phone ordering materials for two folding knives. After tearing apart my Benchmade to get the general idea of how these things work, and multiple E-mails to David Broadwell (who took the time to answer every question I had in great detail and who I still owe an extra large 120 oz. half diet half regular big gulp) for pointers, I built my first two knives. These two knives ended up being Christmas gifts. The knives went to my Dad and my Father -in- law. I have been an addict ever since. I live in West Michigan with my wife Jennifer, our daughter Peyton and our dog Petra. I am a third generation Die Maker, a postion I still hold. Jennifer is a Kindergarten teacher and my right hand at knife shows. My little girl is now five years old, and I believe she's at just about the right age to become my first apprentice. Hobbies of mine incude minibikes, mountain bikes, bmx bikes, skateboards, snowboards, or anything that ends with "board" shooting sports of all kinds, brewing beer and all things fast. Customization of anything truly interests me. Be it cars, bikes,firearms or anything someone takes and changes to make it cool and different. Some of the custom work I see people do truly blows my mind, and inspires me to reach deeper into the ozone of customization.
Related Items