Vintage Randall Zippered Case 16"
Original price $175.00
Price $135.00
Overview
Vintage Randall Zippered Case 16"
Product Details
Overall Length 16
Weight (oz) 5.1
Source Previously owned
Additional Specs
About the Maker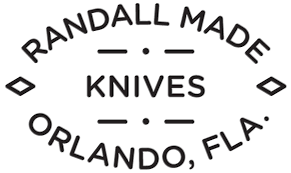 Randall Made Knives
The models offered by Randall have been developed over a period of 80 years from personal experience, extensive research and the study of hundreds of designs submitted by individuals around the world requesting custom-made knives. Each model has been thoroughly field-tested and has proven to be properly shaped and designed for its particular use. Randall knives are 100% hand made and no two are exactly alike. Demand is so great for all models that there is typically a wait of a few years to deliver a new knife ordered from Randall. W. D. "Bo" Randall passed away December 25, 1989 at his home after visiting with all his family earlier in the day. Bo and his son Gary managed the business side by side for over twenty-five years. Gary continues the tradition of hand crafting knives that bear the Randall Made trademark along with his sons, Jason and Michael, of the next Randall generation.
Related Items