Dotted Oil Slick Zirconium Clicker Pen
Price $1,095.00
Overview
This Dotted and spiral fluted Zirconium Clicker pen from Nottingham Tactical is customized by Axel. New from maker!
Product Details
Overall Length 5
Weight (oz) 1.62
Source From maker
Additional Specs
Handle Material Metallic
About the Maker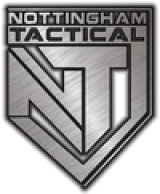 Nottingham Tactical
We are a small, privately owned CNC manufacturing facility located in Hazlehurst, Mississippi.
Related Items