Overview
Damascus WWI Whistle by Ema Forge. Comes with a brown leather sheath. New from maker.
Product Details
Overall Length 3.25
Weight (oz) 1.6
Source From maker
Additional Specs
Knife Type Has Sheath
Blade Material Damascus
Handle Material Metallic
About the Maker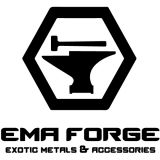 EMA Forge
" We are a forge that makes beautiful knives, axes, and EDC gear, as well as exotic metal alloys."
Related Items