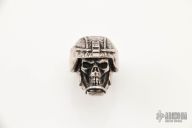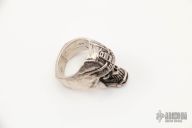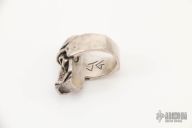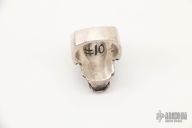 Sterling Silver Grunt Ring #10 - Size 14
Original price $995.00
Price $445.00
Overview
Sterling Silver Grunt Ring #10 - Size 14. Excellent condition.
Product Details
Overall Length 1.75
Weight (oz) 1.7
Source Previously owned
Additional Specs
About the Maker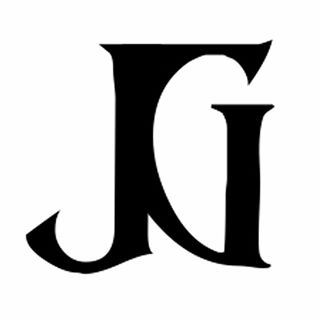 Gage, John
"My first experience in the metal trades began at age 13, when I studied machining in Eastman Kodaks' Machinist explorer program. The program was run by my dad, a machinist by trade. In my late 20s and early 30s, I further developed my skills, exploring blacksmithing and metal arts while working full time jobs in the metals machining and manufacturing trades. In 2003, I was offered a position at Albion Swords, in New Glarus, WI. There, I quickly learned the way of the medieval sword. Working at Albion was an amazing experience. I was surrounded by talented craftsmen and artisans, such as Peter Johnsson and Jody Samson. Shortly after my experience there, I started working out of my own shop. I began exploring new ways to bring raw materials to life in a way that advanced my journey as a craftsman. I strive to produce the highest quality hand made blades and jewelry."
Related Items