Copper Dogtag Pendant w/ Ball Chain
Price $100.00
Overview
Copper Dogtag Pendant with Ball Chain by Timothy Miller. New from maker at the 2022 Blade Show.
Product Details
Overall Length 1.25
Weight (oz) 1.6
Source From maker
Additional Specs
Handle Material Metallic
About the Maker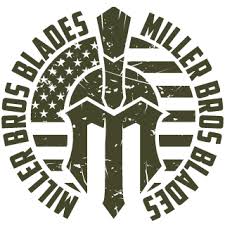 Miller Bros. Blades
Miller Bros. Blades is operated by three brothers. We are proud to offer blades of exceptional performance and durability. We make all our products in the United States of America. All our Steel, G-10, Leather, Sheath materials and fasteners are made by American companies. At Miller Bros. Blades our personal faith has a huge impact on our business. We believe that Jesus Christ is the eternal Son of God and salvation is possible through His death on the cross and not on the basis of human merit or works. We believe the Bible is God's word and we choose to follow Him in our lives. We pray you would consider how Jesus' sacrifice on the cross affects your life.
Miller of Miller Bros Blades, Tim
Related Items