Bronze Skulls Titanium Chopstick
Price $235.00
Overview
Bead blast finish Titanium chopstick with bronze skulls tube. New from maker!
Product Details
Overall Length 4.625
Weight (oz) 0.9
Source From maker
Additional Specs
Handle Material Metallic
About the Maker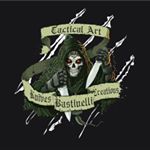 Bastinelli Knives
"My name is Bastien Coves and I have been a french Knifemaker for over 11 years and I recently had the chance to move to the USA. I live now with my wife and my 2 daughters near Orlando, FL. I started my knife collection when I was 7 and I'm very experienced with carrying, using, and playing each day with different kinds of knives (fixed blades, Karambits, balisongs, Katanas, folding knives, push daggers, etc.). My work as a knifemaker and knife designer pushes me to make lots of cutting tests each week over the past 10 years, which allows me to better create and warranty the perfect knife to my customers. I've done work for the military, law enforcement, French special units, martial arts instructors, martial arts students, collectors, etc. My work is my passion and I'm lucky to live it each day, and to meet and share it with other people who are passionate about knives."
Related Items