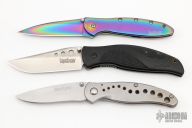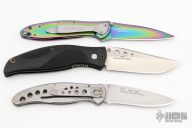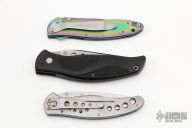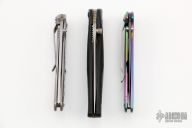 1640 Vapor & 1660MVIB Leek & 1560 Whirlwind
Price $195.00
Overview
These three Kershaw knives haves some scuffs and scratches, but are all in good user condition.
Product Details
Blade Length 3.25
Overall Length 7.75
Closed Length 4.5
Weight (oz) 9.4
Source Previously owned
Additional Specs
Knife Type Tip Down Clip, Tip Down Carry, Reversible Clip
Blade Material Stainless Steel
Blade Details Drop Point, Wharncliffe, Recurve
Handle Material Metallic
About the Maker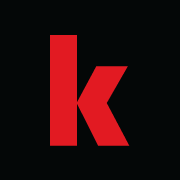 Kershaw Knives
"Kershaw was founded in 1974 to design and manufacture tools that knife users would be proud to own, carry, and use. This has meant that every Kershaw knife must be of the highest quality. Whether it's a hardworking pocketknife, a hunting knife, or a special collectors' edition, Kershaw always chooses appropriate, high-quality materials and is dedicated to intensive craftsmanship. Along with extremely tight tolerances and state-of-the-art manufacturing techniques, this ensures that Kershaw knives provide a lifetime of performance. Kershaw pioneered the use of many of the technologies and advanced materials that are today standard in the knife industry. Our SpeedSafe assisted opening knives were first-to-market. We introduced the concept of knives with interchangeable blades in our Blade Traders. Recently, our Composite Blade technology, which combines two steels into one blade, gives knife users the best of both worlds by enabling us to use steel known for edge retention on the edge and steel known for strength on the spine. And we will keep on innovating, bringing new and better technologies and materials to today's knifemaking industry and knife-using public."
Related Items