Custom Hinderer Clip - Bad Motherfucker
Original price $200.00
Price $145.00
Overview
Custom Hinderer titanium Clip. Made for a Hinderer knife not made by Hinderer Knives. New from maker.
Product Details
Weight (oz) 0.1
Source From maker
Additional Specs
About the Maker
Ansorge, Jens
Jens Ansorge

From the day back in 1985 when I came out of the Cinema after ?Rambo First Blood ? Part II? I was infected to own one of these movie-seen Take Down Bows and Arrows.

Starting to collect everything belong to that theme, my collection increased over the years till I finally had all the stuff together which was movie related. All Bowmodels , Arrows and Ripper Broadheads ? there was nothing out there what was not available in my collection At the end of the 90ies I was starting to share my expert knowledge about the Hoyt Easton Rambo Bows and Arrows with the Fan-Community all around the globe.

From that time I met a lot of US Army Fellows from Mannheim Airforcebase , as well Wiesbaden AFB and we enjoyed many weekends with Bowshooting at Heildberg Rod & Gunclub and Collenberg Outdoor 3D shooting Range ?.. I felt my hobby was the right thing to share with others, make them happy and get back the emotions that I have invested all the years. It happened that I was asked to repair other collectors Bows with genuine Parts and more and more my hobby was focused on repairing and restoring Rambo Bows and Moviearrows from all over the world. In 2007 I wrote an Report in international weapons magazine ?Visier?, featuring the theme ?Rambo Bows? due to the moviestart of Rambo IV movie. I met a lot of guys on the knifeshows and also I started to focus on knives. Building Arrows was not that far from going to the next level ?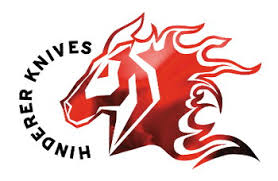 Hinderer, Rick
In the mid 1980's Rick Hinderer began his knife making journey making art knives in a small 14′ x 18′ turkey coop with none of the modern amenities, like heat or running water! Art knives are a far cry from the tactical scene which Rick is so deeply entrenched in now. Over the years his meticulous attention to knife design and knife making, coupled with his real world experience as a Fire Fighter / EMT sets him apart from the rest. Rick's design philosophy is deeply rooted in his experience with using his knives as part of his first responder tools. That catalyst of change from art knives to hard use tactical was after Rick joined the rescue dive team. He really began to look at knives and designs more as hard use tactical tools than works of art. Rick began changing over from old world knife making techniques to modern CNC precision manufacturing. With the combination of designing art knives, and his real world experience as a first responder, this unusual perspective allows him to design hard use tactical folders that are not only aesthetically pleasing to the eye, but extremely comfortable in the hand. All of Rick's products are engineered to go the distance when it counts the most whether it be when life is on the line, or you just need a good cutting tool.
Related Items