Zirconium .223 Degraded Radioactive Isotope Container
Price $125.00
Overview
This Zirconium .223 Degraded Radioactive Isotope Container. Accepts 3mm x 22.5mm vial (not included). Includes COA. Excellent Condition.
Product Details
Overall Length 2.35
Weight (oz) 0.49
Source Previously owned
Additional Specs
About the Maker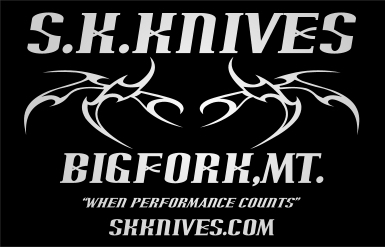 Kelly, Steven
S.K. Knives is located in Bigfork, Montana. It is the work and determination of myself and my wife Malissa. I am a full-time knifemaker, husband and father of two awesome children. I built my first knife in 2000. I was determined to create my own hunting knife. Even before it was finished, I had realized that I had been bitten by the knife making bug. Soon after that fist knife was finished, I began building the knife I carried while performing my duties, as a Deputy Sheriff. Before long I was building knives for friends, relatives and co-workers. In 2001 I was introduced to the forge. I have been forging blades ever since. In late 2002 I began building my own Damascus. I did it the old fashioned way, using a variety of hammers and a 125 lb anvil. I learned many valuable lessons by building my Damascus this way, but was relatively limited in my pattern capabilities. In April of 2005 I completed my 50 ton hydraulic forging press and am now making an array of mosaic Damascus patterns. In June of 2008 I successfully passed my American Bladesmith Society, Journeyman Smith test. This accomplishment completed the next step in my continuing quest of making myself the best knife maker I can be. In 2009 I decided to fall back on my roots from 15 years of Law Enforcement experience. I began building more tactical style knives with a strong focus on folders. And an emphasis on what I would carry if I was still working the streets. Most of my tactical knives and folders are built with CPM-154 stainless blades, Titanium and composite handle materials.I believe that knives can be beautiful in appearance. But first and foremost, must be a functional tool. I strive to make my knives the toughest, best cutting tools possible. The standard I use is a combination of toughness, and edge holding ability, as well as ease of sharpening. I fully believe in and use the designs I produce. My knives are used in and subjected to one of the toughest environments in the Country, the Montana outdoors. Montana has some of the most severe weather challenges and the best sporting challenges anywhere. My knives have stood up to the challenges time and again. I also perform regular testing on the knives I build. Because of this philosophy, I limit myself to using a select few steels, that I have tested, time and again. Most of my straight steel working knives are built from 52100 or 1084 tool steel. I also use other steels such as CPM-154 when the need and function of the knife require a stainless steel blade. I build the majority of my straight laminate Damascus patterns from 1084 or 1080 and 15n20 with the occasional addition of that something special for added effect. I also build a variety of canned Damascus patterns which incorporate several different steels and shapes. This process provides some of the most unique and diverse patterns imaginable. I am very proud of the fact that I can claim sole proprietorship of my work. I do all of the work that goes into my knives. I perform all of my own heat treating, with differential edge quench being my choice for the majority of my knives. I am convinced that this provides the best combination of edge holding ability and toughness in most applications. Knife making is constantly changing and evolving. I am always trying and testing new products. I do this in an effort the learn all that I can about the craft I love. And, also to try and provide only the best possible products to my valued clients. I take tremendous pride in my work and craftsmanship. I will make every effort to satisfy every customer. All of my knives come with free lifetime sharpening and my personal guarantee against defects in quality and craftsmanship. I believe that Quality Should Last a Lifetime!