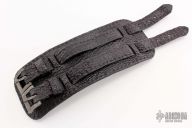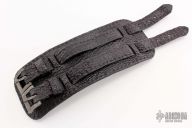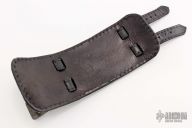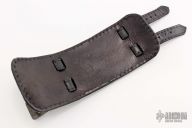 Sharkskin Cuff w/ 2 Damascus SNMetalWorks Buckles
Original price $150.00
Price $150.00
Overview
Sharkskin Cuff by Bad Love Leather with 2 Damascus SNMetalWorks Buckles. 8.75" overall. Excellent condition.
Product Details
Overall Length 8.625
Closed Length 5
Weight (oz) 3.4
Source From maker
Additional Specs
Knife Type Tip Up Clip
Blade Material Stainless Steel
Blade Details Clip Point
Handle Material Leather & Skins, Metallic
Other Details Tactical
About the Maker
SNMetalworks
Here is displayed some of the work that is done in my shop in Colorado Springs, Colorado. I moved to Colorado for the scenery and outdoor fun that can be had here, but what I found was what I have always wanted to do. Working with metals that after 10 years of collecting custom knives by amazing artists and designers that have become friends, I found what I always desired to do, make and design objects out of materials that in themselves are already artwork. My passion in these pattern welded materials started with Stainless Damascus, then turned to towards Mokuti and ZircTi made by Chad Nichols and others. ??These materials are like what I make, never the same, always different. The patterns are endless in possibility and beauty. About 2 years ago, I purchased my first Damasteel buckle from a maker in Poland. This spawned the idea of making my own buckles, it just blossomed from there into other metals. I work in the before mentioned Mokuti, ZircTi, Stainless Damascus, Zirconium, Damasteel, and 6/4AV titanium and discovering more from time to time. Everything is Custom here, try not to duplicate if i can??? avoid it. Please explore and always feel free to contact me if you have questions about ordering and design.
Related Items