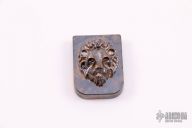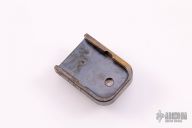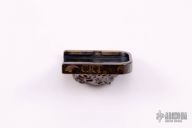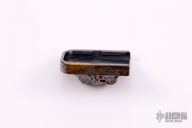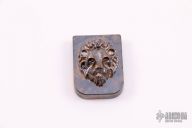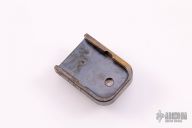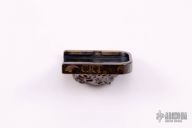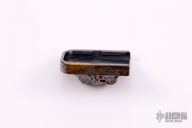 Guardian Lion Glock Mag Baseplate
Price $425.00
Overview
This Glock Magazine baseplate by CRT and Steel Flame features full brass construction. Excellent condition.
Product Details
Weight (oz) 2
Source Previously owned
Additional Specs
About the Maker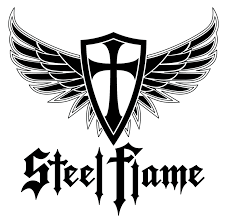 Steel Flame
Derrick Obatake born and raised in East Los Angeles and has been designing and making jewelry for over 35 years. At an early age he was taught to be a machinist by his father. He is a Graduate Gemologist from GIA and has had formal training in traditional jewelry arts, Diamond setting, model making, casting, finishing and fabrication. He has extensive experience in Die striking, and 3D CAD design. I like to blend old school craftsmanship with new age technology to create an out of the box style that is hopefully refreshing and empowering. The parent company of Steel Flame®, Elements has been in business for over 17 years. Elements has sold custom product through over 500 retailers nationally and has been an approved drop ship vendor for corporations like Nordstrom, Disney, Warner Bros, Amway and Lands End. We take pride in building everything here in the United States using quality materials from US suppliers.
Classy Raptor Tactical
Classy Raptor Tactical was started in August of 2014. The company is owned by Curtis and Jennifer Iovito. Curtis Iovito II is a medically retired combat veteran. He served almost 9 years in the U.S. Army as a Radiology Specialist (68P) and an All Source Intelligence Analyst (35F). Curtis started his career in 2005 while serving 6 years as an X-Ray Tech in the 44th Medical Command. He served the remaining 3 years as a Military Intelligence Paratrooper in the 82nd Airborne Division. He also has 2 tours in Afghanistan in 2008-2009 and 2012. Jennifer Iovito is also a combat veteran who spent 7 years in the U.S. Army as a Combat Medic (68W). She started her career in 2005 while serving almost 3 years in the 3rd Infantry Division and 4 years in the 44th Medical Command. She also has one tour in Iraq in 2007-2008.
Related Items