Cocktail/Knife Leather Pad
Price $40.00
Overview
Cocktail/Knife Leather Pad. 7.75" x 5.125"
Product Details
Overall Length 7.75
Weight (oz) 2.4
Source From maker
Additional Specs
Handle Material Leather & Skins
About the Maker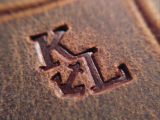 Kassinger Leatherworks
I began researching leatherwork in 2012 when I had a temporary lapse of employment. I wanted a hobby that I could use to fill my time and maybe make a little money. I officially started selling and taking orders in 2013. I've made a variety of different items from a variety of different materials. Wallets and Valet trays made with standard Veg Tanned leather make up the most of my portfolio, but I also enjoy the occasional challenge to make something new or work with exotic materials. I have always been a creative person and I love working with my hands. This is the thing i've enjoyed the most and i'm glad it stuck with me. I live in Western Kentucky with my wife and son.
Related Items