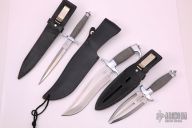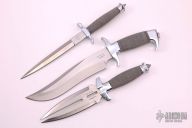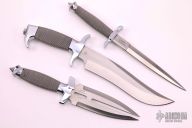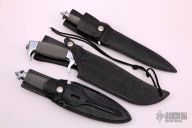 3-Piece Set
Price $195.00
Overview
Three United Cutlery Gil Hibben knives. All have black leather sheaths. Has some light scratches, otherwise good condition overall.
Product Details
Blade Length 8.5
Overall Length 14
Weight (oz) 54
Source Previously owned
Additional Specs
Knife Type Hidden Tang, Has Sheath
Blade Material Stainless Steel
Blade Details Clip Point, Dagger, Recurve
Handle Material Metallic
About the Maker

Hibben, Gil
Hibben Knives is solely owned and operated by Gil Hibben in LaGrange, Kentucky. Hibben has been a full time custom knifemaker since 1957. Gil makes a limited number handmade custom knives each year to fill custom orders as well as knives to show and sell at selected knife shows and on this website. Hibben designed the first line of Browning hunting knives in 1968, the American Kenpo Knife for Ed Parker, and the Rambo Knife for the films Rambo III and Rambo. In addition, Gil Hibben licenses some of his designs for factory reproductions to be made by other companies such as United Cutlery.
Related Items